"You were a god send for us - we still talk about having you come back ...and train us!  I'm glad to hear your business is growing.  Your are truly wonderful with dogs - and people.  We think of you often.  Keep us in your 'loop'." - Jan 




"I wanted to thank you so very much for all the hard work you've done with our family and Dakota.  I feel much more comfortable than I did before you started working with her.



Thank you again ~~ I'm not sure where we'd be without you right now.  I was not very confident about bringing the new baby home to the "old" Dakota (prior to your training).  So, thank you from the bottom of our hearts....

We all saw such a transformation in Dakota (and us) with your time, effort and work." -Cheryl



                                                                            

                                                                                Beautiful "Dakota", at 130 lbs!
Just wanted to drop you a note to say thank you.  We believe we've come a long way with Gina and Riley.  Your instruction was invaluable.  We greatly appreciate it.  - Mike and Carol


"Valissa is a wonderful resource to call upon if you think you need help resolving your dog's behavioral problems. I called Valissa when I got a golden/lab retriever mix female 8-week old puppy.  My dog Velvet is now 70 pounds at 10 months.  Although I had owned dogs before, this was the first time I had a puppy to deal with and really needed some help.  Luckily I found Valissa!  She knew exactly what to advise and was very well prepared.  Valissa also gave my 9-year old daughter, Amanda, some tips on how to interact with the puppy.  If you are having any problems or questions about your dog I highly recommend you ask Valissa come to your home.  You can be assured you are dealing with a professional who understands what dogs are all about. Thanks Valissa!!" -Ana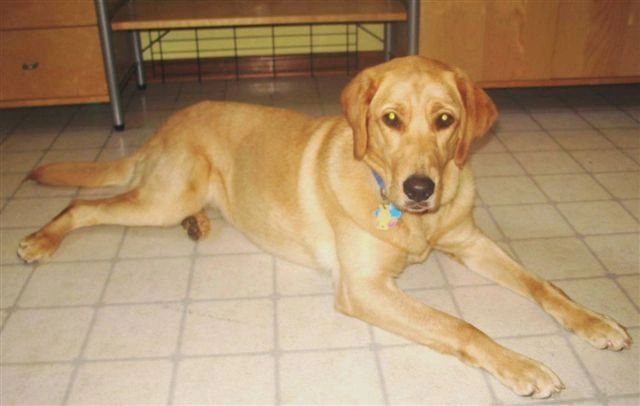 "Velvet"                
"I was just on the phone with a friend of mine.(the one who actually got your name from Damingers for  me) She was asking me if I had the trainer come out and what I had thought.  I just gave you a raving review!!!!! :)   Cocoa has been doing great.  I still work with her training every day and when it is just she and I she is PERFECT. )"  -Bonnie
"I am having a ball working with both dogs.... You do a great job explaining things and being encouraging."  -Robin
"Peanut is coming along.  He is letting people get really close to him without reacting.  No touching yet, but it's a good start.  He hardly ever barks at cars/people in our drive way anymore.
The clicker is a life saver...  I vote it as the best training method ever!  It stops him in his tracks and averts his attention so quickly so he doesn't escalate.  We really appreciate your helping us to make him a happier dog." -  Jessie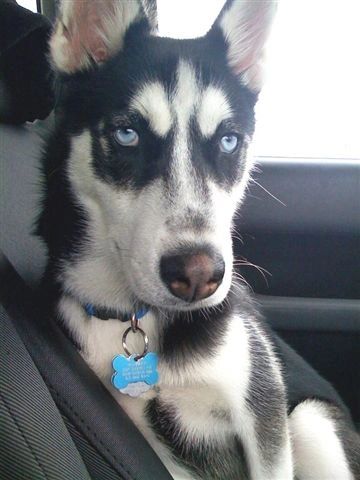 Marsha and "Sonny"                                                                     "Maverick"



"I really felt I wanted to speak for Buba because he truly got a lot from your visits and always responded very positively to you. You did a lot for him (and for me). I hope I will be on your mailing list to get your newsletter. Thanks so much for all you did to help us." -Arlene  (see Buba's input below!)
"Buba"
"Hi! My name is Buba and I want to tell you just how happy I was every time Valissa came to see me. I would wiggle all over when she came to the door and cover her with kisses as she greeted me. I learned to chase after a ball. to play in a box and to treat my older brother with respect (and for a puppy that wasn't easy). It was a little trying to potty train me, but my owner took Valissa's tips seriously and eventually they worked with me (even though I still have a mind of my own sometimes). I was also really good with walking on a leash because the tricks to make me do this really worked. I really learned a lot when Valissa was here and I kept going for the entire time because she really knows how to train puppies like me. I truly enjoyed my time and what I learned to do and I still run to my cage and sit and wait for my treats every day when I come in from outside. Thank you, Valissa! Signed, your puppy friend, Buba." 
"I do continue to give you rave reviews to anyone who asks. Cocoa has come a long way since her puppy training. She is now 1 year old and those puppy days are a very distant memory. I honestly wondered in the beginning if my husband and I could handle her. Thank you for helping us to teach Cocoa all her basic house manners and teaching us that training should be FUN!"  -Bonnie          
Veterinary Office and Local Business Referrals:
Swedesboro Animal Hospital
Greenfields Veterinary Associates
Damingers Natural Pet Foods, Sewell, NJ
Pet Valu, Mullica Hill, NJ
Marci's Luv N Touch Pet Care Services, Mantua, NJ
Valissa Willwerth, Trainer/ Behavior Consultant


856-885-3439
info@theclevercanine.com